Label "Entreprise du Patrimoine Vivant" (EPV) (=Living Heritage Company)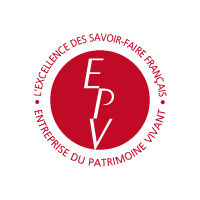 The EPV label is a mark of recognition of the French state for French companies that has an artisanal or industrial know-how of excellence.
In the face of increasing international competition, "French product" is not always enough to attract customers. Framed, the label «Entreprise du Patrimoine Vivant» (EPV) highlights the excellence of French manufacturing.
This label was awarded to the Société des Ocres de France in 2016 by Emmanuel Macron.
The EPV label : ambassador of the excellence of « made in France »
Award by the French State after a rigorous investigation, this label aims to reward emblematic small and medium-sized companies for their artisanal or industrial French know-how of excellence.
Its criteria relate in particular to the control of advanced, renowned or traditional know-how, generally associated with a terroir. It clearly highlight the high added value of made in France manufacturing in the eyes of domestic and international buyers.
This promotion action is amplified by a presence of companies labeled at major trade fairs as well as by support for export.
Awarding manufacturing excellence and rare know-how, the EPV labelvalue French companies effectively in the face of global competition.
A reference
Unique companies that know how to reconcile tradition and innovation, know-how and creation, work and passion, heritage and the future, local and international.
A national network of companies of excellence sharing the same values
Adaptability, responsiveness, innovation, passion for the business : EPV companies are driven by common values. Whatever their size, their reputation and their specialties, they together look after a treasure : the French manufacturing heritage.
Support for "made in France"
EPV companies maintain their production activity in France, in sectors with high added value. Most of them are present on international markets and thus export the emblematic French know-how. They are representative of the "made in France" spirit and know-how and forge the French economic and cultural identity.
By making use of the know-how of a certified company, customers and prescribers support the maintenance and development of these prestigious activities in France, in order to secure and consolidate sustainable jobs and not relocated.
The sign of bespoke
These companies are able to intervene on non-standard sites, to respond to the most original orders, to propose new and bespoke solutions to meet the most cutting-edge needs and the most demanding customers. In all fields, coming from tradition or cutting-edge techniques, these companies have a common talent : offer bespoke services item not found.
Perpetuating or reintroducing ancestral and original techniques, they also do not hesitate to innovate and invent new processes or products to meet current needs and standards.
The criteria
The companies labelled « Entreprises du Patrimoine Vivant » are characterized by :
Ownership of a specific economic patrimony stemming from manufacturing experience ;

The implementation of rare know-how based on the mastery of traditional or high-tech techniques ;

The attachment to a territory.
1. Criteria showing a specific economic asset holding :
The company has rare equipment, tools, machines, models, technical documentation ; or the company holds industrial property rights related to its products, services or production equipment ; or the company has a significant customer network. 
2. Criteria for rare know-how based on the mastery of traditional or high-tech techniques :
The company owns exclusively or with a small number of companies, an indisputable know-how ; or the company has know-how which is not accessible through the normal training channels but through those provided by the company itself ; or the company employs one or more employees with excellent know-how, justified either by high-level titles or awards, or by significant professional experience.
 3. Criteria indicating the seniority of the geographical location or the company's reputation :
The enterprise has been established in its present locality for more than fifty years or has premises of historical or architectural value; or the enterprise has production in its historical basin; or the enterprise has a well-known name or mark, in particular because it benefits from national distinctions or is the subject of reference publications, or because it intervenes :
* on property belonging to the protected heritage under historical monuments ;
* on objects or furniture stamped or used to perpetuate a stylistic current of French art.