Sof-doses are the pigment mixtures that make the tints of our coloured Badisof & Badisof Plus.

The most common option is to buy the already coloured Badisof/Badisof Plus (the mixture will be much more homogeneous because it's made in our mixer). But you can also buy the natural Badisof/Badisof Plus and :
- Do not color it ; 
- Colour it with our Ocres de France pigments and create your own colors (example : here is the ocre jaune JFLES dosed at 5% (on the left) and 20% (on the right) in the Badisof Plus :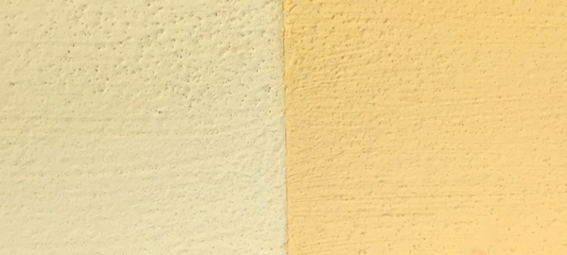 Be careful, however : tests may be necessary to determine the colour you will get. Also remember the dosage to be able to have the same color everywhere if several buckets are needed.
- Finally, you can colour the Badisof/Badisof Plus with sof-doses. A sof-dose in a 4kg bucket corresponds exactly to the tint that would have the coloured Badisof/Badisof Plus, tinted in our factory. This option is interesting when you want to be able to lighten a color. Example : instead of buying a Badisof Plus Amande, you can buy a natural Badisof Plus + 1 sof-dose Amande, which you pour only half or 3/4 to have a lighter shade.
Buying the sof-dose + Badisof/Badisof Plus also slightly reduces the manufacturing time of your limewash painting (24-48h on average).
Warning : sof-doses are formulated FOR our Badisof/Badisof Plus. We are not responsible if you use sof-doses in another mixture. The final result will necessarily be different and will not correspond to the color of our color chart.
Very simple to use, sof-doses are to be mixed directly dry with the bucket of Badisof or Badisof Plus natural.
Proportions : To obtain the colour of the Badisof/Badisof Plus colour chart, add 1 sof-dose for 1 bucket of 4 kg, 2 sof-doses for 1 bucket of 8 kg. This proportionality must be respected according to the number. If you want to highlight a color, it is possible not to put the entire dose.
Use : Pour the sof-dose into the bucket of Badisof or Badisof Plus in powder, before adding water.
Conservation : Keep in a dry place.
Instructions : download the Badisof and Badisof Plus datasheets.