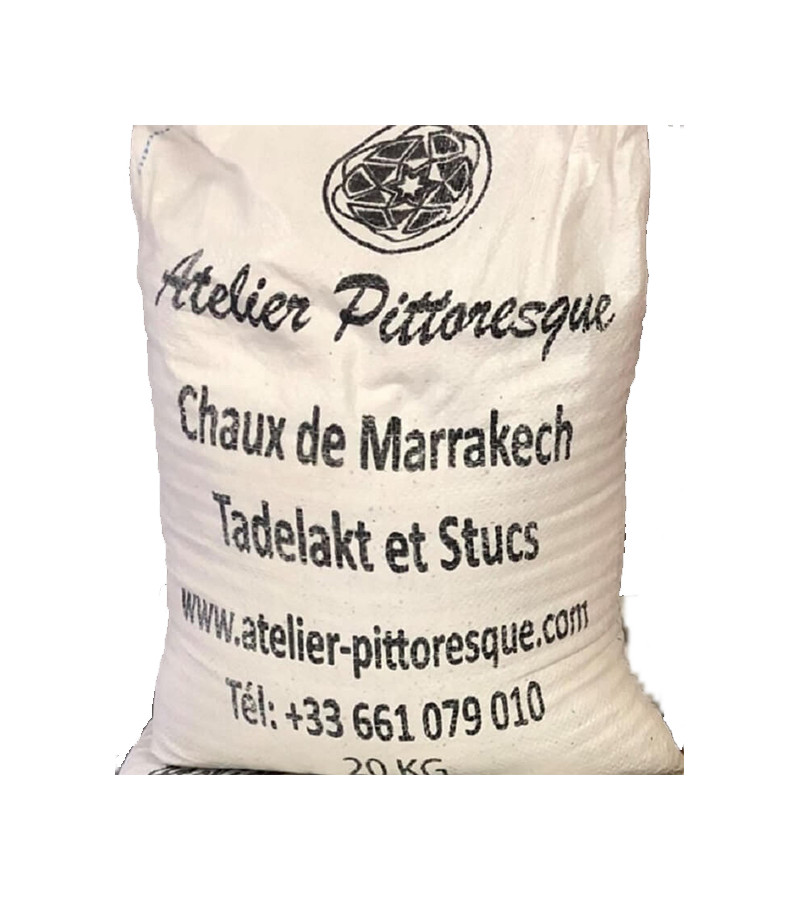  
SIFTED MARRAKECH LIME
Real lime of Marrakech mainly used for the realization of the Tadelakt. It can also be used in interior and exterior decorative coatings.
Basic ingredient of the Tadelakt* technique, its consumption is about 5kg/m²/4mm of thickness. To be diluted with 6 to 7 volumes of water for 10 volumes of Marrakech lime.
Packaging : 20kg.
* Tadelakt is a particular technique that requires prior to its realization a basic training (or at least to learn about its subtleties). 
Legal notices

Delivery policy

Return policy
Google reviews
All ancient civilizations, whether Western civilizations (Egyptians, Greeks, Romans), South American civilizations (Incas, Maya), Asian civilizations (Chinese, Mughal), Byzantine civilizations and Muslims, have resorted to the use of lime in construction and decoration but also in various fields such as agriculture, textiles, medicine... These peoples geographically located in the four corners of the world have managed over time to master the building material, develop other lime plaster techniques and realize architectural masterpieces as the Pont du Gard in Nîmes, the Colosseum in Rome, the Wall of China, etc.
But the search for new materials and the experiments carried out by the engineers on lime and mortars led in 1824 to Portland, England, on the industrial manufacture of a new quick-setting material, more resistant and watertight, it is the cement that will gradually take precedence over lime. Its new criteria and the necessary reconstruction after the Second World War (immediate need of new housing) will favor the use of this new material, which seems endowed with the greatest qualities. Gradually lime will disappear from the collective unconscious ! The know-how, the transmission and the mastery of this noble matter will belong to the past.
Fortunately, the awareness in the 1960s for the safeguarding of old buildings and the Malraux law promulgating the protection of heritage, the restoration of buildings and old neighborhoods will rehabilitate the use of lime. It will gradually regain its place among building products, indeed the cement too tight and too rigid will prove incompatible with old buildings built of stone, brick, earth and wood. The lime will therefore bring its exceptional technical qualities : elasticity, insulation, porosity (it let breathe the wall). Moreover, it will potentiate the aesthetics of different constructions.
Frequently purchased products together