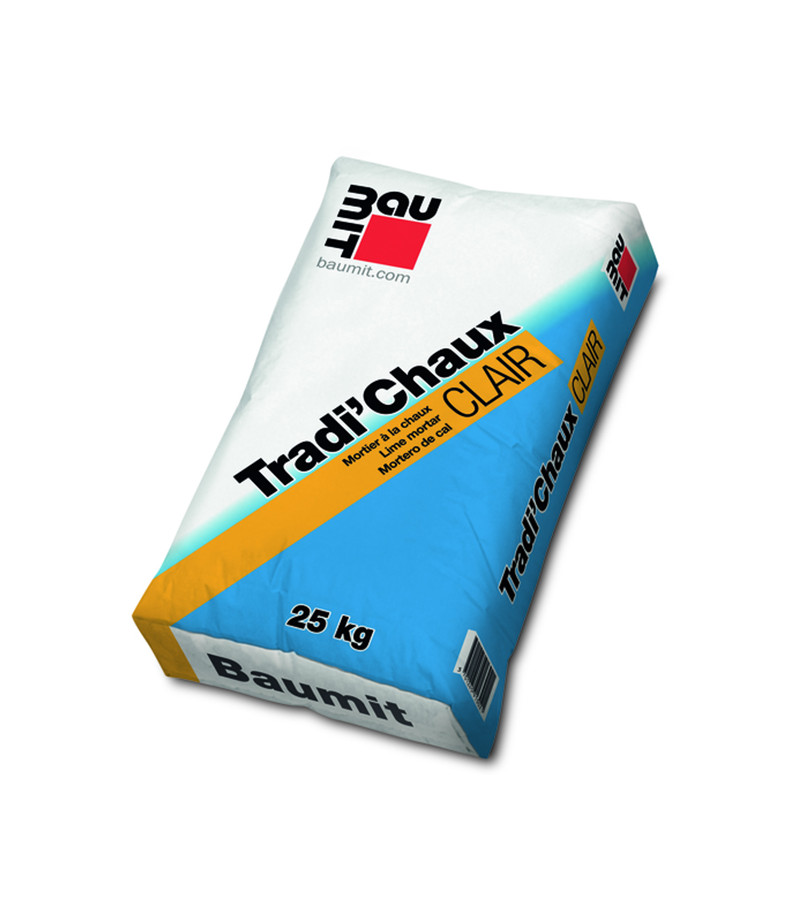  
TRADICHAUX CLAIR OSLO
Tradichaux is a plaster with lime fat, ready to apply, which can be colored with the Ocres de France's pigment. Destined to catch the unevenness, out of plumb, rubble unsealed and other flatness defects. It applies in a layer of 2 to 5 cm by hand or with the machine to project.
Consumption : +/- 18kg/m²/cm of thickness. Technical data to download below in the "download" section.

Legal notices

Delivery policy

Return policy
It can be used in renovation as well as in new construction, directly on the support according to the "single layer" technique.
Préparation of the media : 
The supports must be stable, healthy, clean and dusted, free of any traces of organic material. The supports must be purged of unstable elements. Brittle joints will be degraded in sharp. Smooth concretes will be treated beforehand with the Rénodress coating. In hot, windy or dry weather, the substrates should be moistened a few hours before the coating is applied. In the case of porous and absorbent supports, they will be moistened the day before. During mortar installation and during the curing phase, the ambient temperature, as well as that of the substrate, must not be less than 5°C or more than 30°C. The coating must not be applied to a frozen wall, during thawing or subject to freezing for hours following application.
Implementation :
Mix mechanically in a trough, in a concrete mixer or in a projecting machine. Maintain a constant mixing time throughout the work site and respect the water dosage. Add 6 to 7 litres of water per 30 kg bag of clear Tradichaux. The stiffened mortar cannot be re-loosened or reused.
* Finish projected aspect and crushed aspect : pass a first pass from 10 to 40 mm. Let "pull" this pass before realizing the grain, which will be obtained by the projection of a second pass of a thickness of 3 to 5 mm. The crushed aspect will be obtained by passing a soft taloche on the still fresh coating.
* Scraped finish - Scraped appearance : apply the coating in 1 or 2 passes, then straighten, adjust, tighten with a knife to coat. When it begins to harden, scrape evenly with a spiked taloche or scraper.
* Talochial finish : Plan a first pass to catch up with the nude. After about 2 hours, project a second pass of a thickness of about 5 mm, which will be adjusted and erected with a coating knife. As soon as the coating hardens, finish with a taloche.
Tradichaux clair is packed in a 25 kg bag on a 1200 kg pallet.