 
VERT COLIBRI
Vert colibri is a pigment preparation created by Ocres de France in 2021.
This is a synthetic pigment without any danger for health or the environment. It is composed of 93% of natural ingredients.

Pigment made by Ocres de France

Legal notices

Delivery policy

Return policy
Google reviews
Uses : lime paint, lime coating, wax, paint, plaster, fresco, glaze, cement, fine arts.
This pigment is in powder. For use in artistic painting, it should be ground finely in a mortar before mixing it with the binder.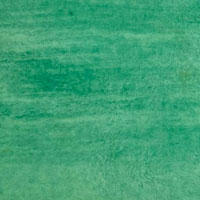 Vert colibri mixed in linseed oil


Linseed oil : dissolve the powder in a little bit of turpentine before adding it to the linseed oil.
Water-based paint/fatty lime : dilute the pigment in some water to make it liquid before incorporating it into the paint.
Lime powder/cement/plaster : directly incorporate the pigment (up to 10% based on the weight of the binder), then mix in order to stain all of your binder.


Maximum dosage : The maximum dosage is 10% compared to the binder used. Above 10% it is recommended to incorporate fixators and adjuvant (lime use).

If you want to lighten a pigment, before coloring a transparent binder (linseed oil, wax, acryling binder, caparol, flour, etc), you can mix it with blanc Tiona (= white Tiona). 

Color : bright grassy green, very bright, with a transparent binder. Slightly softer green with a white binder.


This pigment is synthetic but it is composed of 93% of natural ingredients.

Made in France.

History : pigment preparation made by Ocres de France in 2021.
_____________________



Our packaging :
We use recyclable PET jars, to throw away, cleaned, in the yellow bins ; and glass jar that you can clean and sterilize for other uses even for food storage.
Data sheet
Origin

France

Chemical name

Mixture of azo pigments and polymer resin (formaldehyde-free)

Bulk density

990 g/l

UV resistance

Pigment not recommended outdoor

Colouring power

Very good
Frequently purchased products together