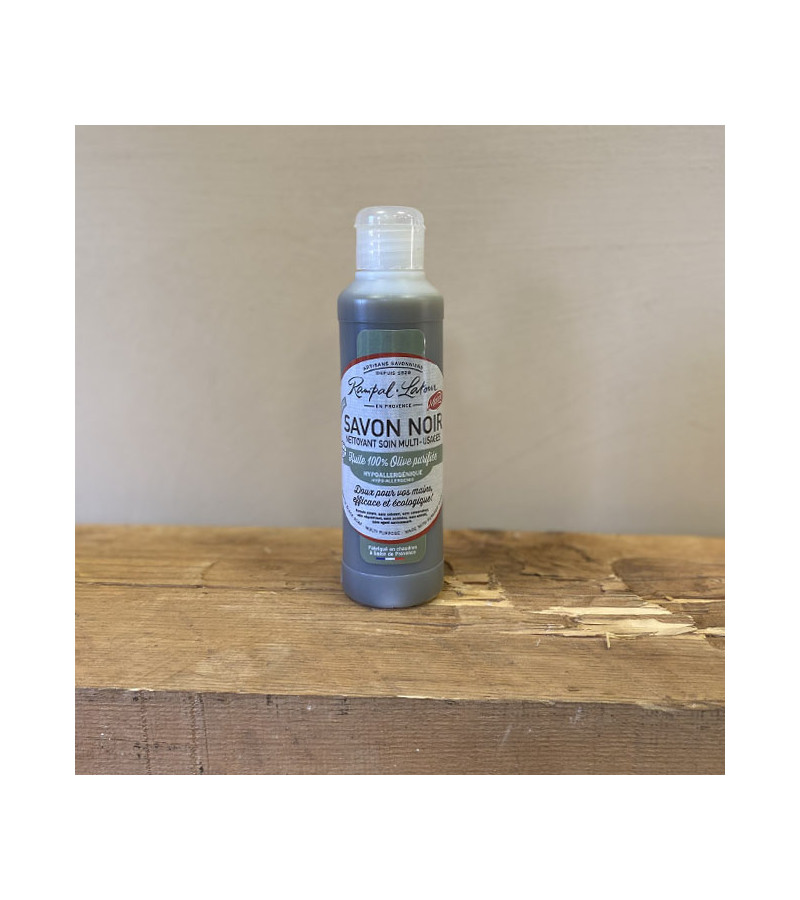  
OLIVE OIL BLACK SOAP - ECOCERT
Black soap is a necessary ingredient in the flour paint recipe. Beyond that, it is a multi-purpose cleaner, dermatologically tested (read our natural home cleaning recipes). Made with olive oil, it is certified Ecocert. 

Legal notices

Delivery policy

Return policy
Google reviews
Ingrédients :
Made from 100% purified vegetable oils of superior quality. Traditional cauldron production in Salon de Provence. This hypoallergenic liquid black soap contains: 15-30%: Purified olive oil soap, water, potassium citrate, glycerin, carbonate salts. 100% of the ingredients are of natural origin.  
Ecodetergent certified by Ecocert Greenlife. Liquid black olive oil soap for the maintenance of the whole house size 1L. Cleansing and purifying efficiency. Effective in 5 minutes on bacteria. Dermatologically tested and proven by an independent laboratory : gentle to hands & non-irritating. Economical, ergonomic and recyclable packaging, this hypoallergenic liquid black soap is specially designed for frequent use.
Easily biodegradable : parabens free, solvent free, artificial dyes free, no foaming agents.
Easy-going : practical, all-in-one maintenance product, for a healthy home.
Use :
Black soap is a powerful cleanser, stain remover and degreaser. It also has nourishing virtues thanks to the olive oil it contains.
Made with purified olive-pomace oil, Rampal Latour black soap is perfect for cleaning and protecting all surfaces of the house from floor to ceiling : floors, kitchen, bathroom, appliances, taps, wood, etc.
It can also be used for : sports accessories, brushes, leather, jewelry, screens and keyboards, DIY, gardening, pets or outdoors.
Frequently purchased products together